SKTLs Space Newsletter: New Orbital Debris Bill, Space Funding In The Billions, China Seeks New Partnerships and Much More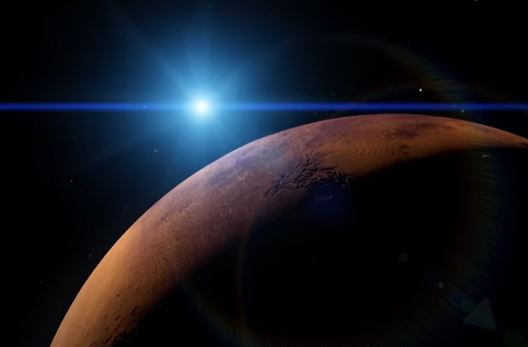 SKTLs Space Newsletter #44 includes information about the new orbital bill just passed by the U.S. Senate, the ESA is hiring hundreds after a recent budget increase, Space Force receives over a billion dollars as a result of the new consolidated funding bill, China seeking new partnerships with GCC countries, NASA awarding millions to a company to design the new ISS spacesuit, the potential for life on Mars, the latest and greatest for startup and private companies and fun facts about winters on Mars.
"What is the slowest of all species in the galaxy?
Snailiens!"
thoughtcatalog.com
Space News
Orbit Debris Cleanup Bill
The Senate passes orbital debris cleanup legislation, NASA to establish a program for removing space junk.

ESA Budget Increase
The European Space Agency plans to hire 400 new employees in 2023, encompassing strategic issues within ESA as well as reforming its bureaucracy.

U.S. Space Force Funding
The $1.7 trillion consolidated funding bill allocated a hefty amount for the Space Force budget, new satellites.

China's Seeking New Partnerships
China is on a mission to work with emerging space nations on remote sensing, communications satellites and much more.

NASA Space Station Spacesuit Award
NASA awarded $97.2 million to a company to develop a new spacesuit used for ISS spacewalks.
SPACE STARTUP AND PRIVATE COMPANY NEWS
ROCKET MANUFACTURER, SATELLITE RIDESHARE
SpaceX completes record year. The recent launch of a Falcon 9 carrying a commercial Israeli imaging satellite marks the end of the busiest year ever for SpaceX.
SATELLITE CONSTELLATION MANAGEMENT
Platform to predict RF interference. Canadian startup Magnestar is building a platform to help foresee radio frequency interference among satellite operators.
SATELLITE CONSTELLATION
Saturn Satellite Networks small GEO satellite program. Saturn is trying to secure funds for another attempt at getting its small geostationary satellite manufacturing business off the ground.
Fun facts about space life…
Earth undergoes seasonal transformations throughout the year, every year. Interesting fact, so do other planets.  
What are winters like on Mars? Some areas get as low as minus 190 degrees Fahrenheit, and some up to 3 feet of snow. ⛷
SKTLs Telegram… Join the SKTLs Telegram to communicate with the SKTLs community.

SKTLs Discord Channel… Join the SKTLs discord community to network with other space crypto enthusiasts and stay up to date on space, SKTLs crypto and more.

The SKTLs team hosts a zoom call every Wednesday!  THIS IS YOUR OFFICIAL INVITE TO SEE WHAT'S GOING ON BEHIND THE CURTAIN AT SKTLs! If you want to volunteer or just want to sit in and listen, click the link below on Wednesday's at 4pm EST and the host will let you in. 
SKTLs weekly team meeting  🛰🌎🚀🌕🔴
Copyright © 2022 sktls.com, All rights reserved.