SKTLs Space Newsletter: The Orbital Age, Artemis 1 Success Story, Greatest In Science 2022 and Much More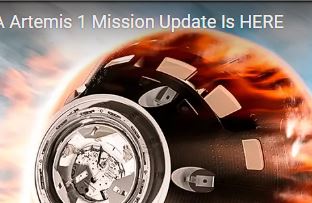 SKTLs Space Newsletter #43 includes information about the rise of the newest industrial age called The Orbital Age, the Artemis 1 mission continues to receive praise from the space industry community, a major milestone in the fight for ASAT Test Bans just had a recent victory, a leak on the Soyuz crew capsule docked at the ISS caused some delays in the ISS schedule of events, JWST is hailed as the Greatest Science Breakthrough of 2022, detailed analysis of the Artemis 1 re-entry, Blue Origin's drive and determination could take them to the moon, space startups news and interesting facts about the advantages of machine learning helping humans uncover the lost history of a black hole and other space curiosities?
"What do you call the lights on a lunar rover?
Moonbeams!"
thoughtcatalog.com
Space News
The Next And Most Profound Industrial Revolution
The Orbital Age will be the newest trillion-dollar industry.

Artemis 1 Earns Widespread Praise
Politicians and industry leaders show their support for a program that has suffered numerous delays.

ASAT Test Ban Resolution, Approved
A resolution calling for a halt to one type of anti-satellite (ASAT) testing indicates a move to support broader space sustainability initiatives.

Soyuz Coolant Leak
A significant coolant system leak in the lone Soyuz crew capsule comes with unfortunate timing.

The Greatest Science Breakthrough Of 2022
From a flawless launch in 2021, through a perfectly executed deployment sequence, the JWST has left us breathless.
SPACE STARTUP AND PRIVATE COMPANY NEWS
MANUFACTURING IN SPACE, INFRASTRUCTURE
ThinkOrbital is raising the bar. ThinkOrbital is aiming to work with agencies that want to manufacture products in orbit or recycle debris.
SATELLITE CONSTELLATION
Quantum Space raises $15 million. Quantum Space will be further developing the first in a constellation of satellites intended to serve cislunar space.
SATELLITE ANTENNA MANUFACTURER
Anywaves plots aggressive US expansion. French satellite antenna maker Anywaves has raised millions to grow its US customer base.
Fun facts about space life…
It would seem a black hole has a mind of its own when it comes to growing larger and increasing in size.
Could machine learning help humans uncover the lost history of a black hole and other space curiosities?
SKTLs Telegram… Join the SKTLs Telegram to communicate with the SKTLs community.

SKTLs Discord Channel… Join the SKTLs discord community to network with other space crypto enthusiasts and stay up to date on space, SKTLs crypto and more.

The SKTLs team hosts a zoom call every Wednesday! THIS IS YOUR OFFICIAL INVITE TO SEE WHAT'S GOING ON BEHIND THE CURTAIN AT SKTLs! If you want to volunteer or just want to sit in and listen, click the link below on Wednesday's at 4pm EST and the host will let you in.
SKTLs weekly team meeting 🛰🌍🚀🌕🔴
Copyright © 2022 sktls.com, All rights reserved.