SKTLs Space Newsletter: Artemis 1 Rolls Out Again, Rocket Lab Succeeds & Fails, Cygnus Cargo Mission In Route And Much More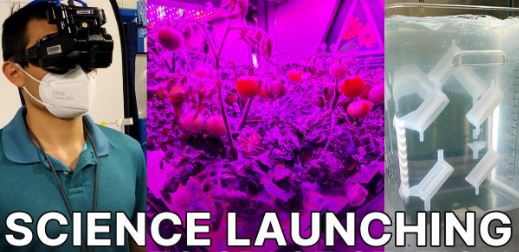 SKTLs Space Newsletter #41 includes information about the SLS Artemis 1 rocket rolling back out and planning on launching later this month, Rocket Lab's recent launch success comes with continued booster issues, the Cygnus cargo mission is in route to the ISS, China loses a rocket stage somewhere over the Pacific Ocean, what happened in space on November 7th (today) back in 1996, a breakdown of the science and experimentation that will soon be taking place on the ISS, tons of the latest news about space startups and fun facts about the closest black hole to Earth and what scientists know about it.
"Despite space being a vacuum…
Mars is really dusty."
scarymommy.com
Space News
The SLS Returns
The Space Launch System and Orion spacecraft are back out on the launch pad for the third attempt to launch the Artemis 1 mission.

Rocket Lab Launch, Fail
Rocket Lab's latest satellite launch is mostly a success.

ISS Cargo Mission
A Cygnus cargo spacecraft is in route to the International Space Station thanks to a Antares rocket lifted off from NASA's Wallops Flight Facility in Virginia.

Rocket Reentry Forces Airspace Closures
A 21-metric-ton dry mass Long March 5B rocket stage reentered over the Pacific Ocean, a little more than four days after it launched.

On This Day In Space!
November 7, 1996: NASA launches its Mars Global Surveyor mission.
SPACE STARTUP AND PRIVATE COMPANY NEWS
SATELLITE RIDESHARE
SpaceX launches Hotbird 13G. SpaceX launched the second of two satellites for Eutelsat on November 3rd.
SATELLITE CONSTELLATION
Starlink adds a monthly soft cap. Starlink internet has included unlimited bandwidth since launch, but now they're adding a 1TB threshold.
SPACE OUTPOST  MANUFACTURER
Embark, an Arkisys program. Southern California startup Arkisys is inviting U.S. companies to test payloads or subsystems in low Earth orbit.
OTV DEVELOPER
Exotrail signs launch agreement. French company Exotrail develops orbital transfer vehicles (OTV's) and has now signed a contract with a German rocket manufacturer.
Fun facts about space…
Black holes, the most extreme objects in the universe, are the most mysterious piece of the space puzzle and are believed to be capable of devouring all matter.
Recently, Astronomers using the Gemini North telescope on the island of Hawai'i have discovered the closest black hole to Earth.
SKTLs Telegram… Join the SKTLs Telegram to communicate with the SKTLs community.

SKTLs Discord Channel… Join the SKTLs discord community to network with other space crypto enthusiasts and stay up to date on space, SKTLs crypto and more.

The SKTLs team hosts a zoom call every Wednesday!  THIS IS YOUR OFFICIAL INVITE TO SEE WHAT'S GOING ON BEHIND THE CURTAIN AT SKTLs! If you want to volunteer or just want to sit in and listen, click the link below on Wednesday's at 4pm EST and the host will let you in. 
SKTLs weekly team meeting  🛰🌎🚀🌕🔴🔵
Copyright © 2022 sktls.com, All rights reserved.