SKTLs Space Newsletter: China's Spaceplane UFO, Starship's First Launch Update, CAPSTONE's Latest and Much More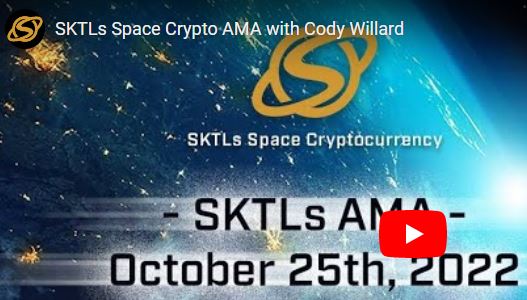 SKTLs Newsletter #40 includes information about China's secret spaceplane releasing an unidentified object into orbit, updates regarding the first launch of the SpaceX starship, China's recent engine test could give them what it takes to reach the Moon, CAPSTONE successfully maneuvers to stay on track, what happened in space on November 2nd in 2000, footage of the SKTLs first ever live stream AMA on YouTube, space startup news galore and fun facts about Plant Habitat-03 and growing food in space.
"I was talking to an alien and it turns out they eat radio-active materials. I asked it what its favorite meal was.
It told me: fission chips."
thoughtcatalog.com
Space News
China's Mystery Spaceplane
China's reusable spaceplane has released an object into orbit, yet again.

The First Launch
NASA expects SpaceX to be ready for the Starship's test flight before the end of 2022.

China's Moon Mission Rocket
China's hot fire tests for the YF-100M, a vacuum-optimized engine, is heating up the space race.

CAPSTONE Spacecraft, On Track
CAPSTONE is no longer in safe mode following its spin-out in September, before its arrival to Moon orbit.

On This Day In Space!
November 2, 2000: Expedition 1 arrives at the ISS.
SPACE STARTUP AND PRIVATE COMPANY NEWS
ROCKET MANUFACTURER
SpaceX Falcon Heavy launch first. A SpaceX Falcon Heavy is delivering a payload for Space Force, on its first direct-to-GEO operational mission.
SATELLITE MANUFACTURER
Millennium Space's Tetra-1. Here's how Millennium delivered the Tetra-1 60% faster than the previous missions.
TELESCOPE MANUFACTURER
Wyvern raises $7 million. Hyperspectral imaging startup Wyvern has secured more funding to add to its previous rounds, developing its foldable telescope.
SPACE TUG MANUFACTURER
Arianespace partners with a space tug startup. Space Machines Company, an Australian startup, will debut its Optimus-1 space tug in the second quarter of 2023 with a popular payload launch service.
SATELLITE CONSTELLATION
The first NorthStar SSA satellites. NorthStar Earth and Space will soon launch its first satellites with Virgin Orbit.
Fun facts about space…
When it comes to developing the space economy many issues will need to be addressed. One of the most common questions- what will humans eat in space?
Which plants have the best chances for cultivation and survival in space? That's the question being addressed by Principal Investigators in the Plant Habitat-03 investigation.
SKTLs Telegram… Join the SKTLs Telegram to communicate with the SKTLs community.

SKTLs Discord Channel… Join the SKTLs discord community to network with other space crypto enthusiasts and stay up to date on space, SKTLs crypto and more.

The SKTLs team hosts a zoom call every Wednesday!  THIS IS YOUR OFFICIAL INVITE TO SEE WHAT'S GOING ON BEHIND THE CURTAIN AT SKTLs! If you want to volunteer or just want to sit in and listen, click the link below on Wednesday's at 4pm EST and the host will let you in. 
SKTLs weekly team meeting 🛰🌎🚀🌕🔴🔵
Copyright © 2022 sktls.com, All rights reserved.