SKTLs Space Newsletter: DART's Big Day, Delta IV West Coast Finale, ORBITS Space Debris Bill and Much More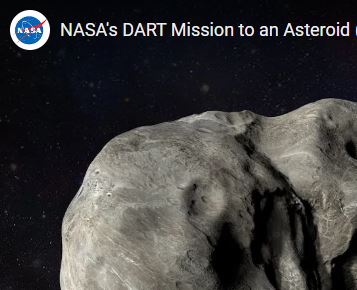 SKTLs Newsletter #38 includes information about DART's big asteroid impact mission happening today, the Artemis 1 SLS passes its fueling test and is still having delays, ULA launches its Delta IV from Vandenberg Air Force Base for the last time, ORBITS space bill is proposed by congress, the SpaceX Crew-5 is preparing for its upcoming mission, quantum cryptography satellites are finding their place in space, the Hubble Space Telescope captures the image of the day, space startups news and interesting facts about the asteroid Dimorphos.
"Why can't you get cell reception in space?
It's 0-G!"
redbubble.com
Space News
DART's Big Day
NASA's Double Asteroid Redirection Test is on a path for impact with Dimorphos later today.

Artemis 1 Delays Again
After completing its successful fueling test, Artemis 1 is still having trouble getting off the ground.

Delta 4's Final West Coast launch
ULA is under contract to launch two more NRO satellites on the Delta 4 Heavy in 2023 and 2024, but will not be launching those from the west coast.

Space Junk Worries
Introducing the Orbital Sustainability (ORBITS) Act, a bipartisan bill to address the space junk problem.

SpaceX Crew-5 
Two NASA astronauts, one cosmonaut and a JAXA astronaut are in preflight preparations for their upcoming trip to the ISS.

Quantum Cryptography Satellite Systems
The European Space Agency and SES formally signed the contract for the Eagle-1 spacecraft, with plans to test long-distance quantum key distribution (QKD).

Space Image Of The Day!
The Hubble Space Telescope captures an image of a young star exploding in the Taurus constellation.
SPACE STARTUP AND PRIVATE COMPANY NEWS
SATELLITE CONSTELLATION
Starlink for maritime and enterprise customers. Marlink and OmniAccess have become authorized Starlink integrators.
SPACE INFRASTRUCTURE DEVELOPER
Private company to fly Saudi astronauts. Axiom Space will fly two astronauts from Saudi Arabia, one of them a woman, to space as soon as next year.
SPACE INVESTMENTS PLATFORM
Spaced Ventures petitions for SpaceX shares. Spaced Ventures crowdfunding platform has obtained pledges of $11.4 million from individuals eager to invest in SpaceX.
SATELLITE MANUFACTURER
OpenConstellation, shared space infrastructure. Open Cosmos is on a mission to give businesses, nonprofits, national and regional governments access to actionable space data.
Fun facts about space…
This evening, NASA's Double Asteroid Redirection Test will be impacting with an asteroid called Dimorphos.
The asteroid Dimorphos is a small asteroid satellite and is the minor-planet moon of a synchronous binary system including the much larger asteroid Didymos.
SKTLs Telegram… Join the SKTLs Telegram to communicate with the SKTLs community.

SKTLs Discord Channel… Join the SKTLs discord community to network with other space crypto enthusiasts and stay up to date on space, SKTLs crypto and more.

The SKTLs team hosts a zoom call every Wednesday!  THIS IS YOUR OFFICIAL INVITE TO SEE WHAT'S GOING ON BEHIND THE CURTAIN AT SKTLs! If you want to volunteer or just want to sit in and listen, click the link below on Wednesday's at 4pm EST and the host will let you in. 
SKTLs weekly team meeting  🛰🌎🚀🌕🔴🔵
Copyright © 2022 sktls.com, All rights reserved.